Ashley Cooke and Danielle Dankner graduated from the University of Washington together in 2008. Both found themselves in a tough job market and had a hard time breaking into New York City's competitive acting industry. Instead of giving up or getting depressed over the situation, they took the next best step… they started a company.
Ash&Dans was born and quickly became a big name in the fashion industry with the likes of Teen Vogue, Lucky Magazine and the Wall Street Journal. It took hard work and a lot of motivation, but as we speak, the duo are moving forward and expanding their brand.
You have an amazing line of private label clothing, you started in your dorm rooms. What gave you the courage to move across the country to New York and how did you fund the business?
Thanks Matt. We didn't actually start ash&dans in college; we came up with the idea shortly after release. Danielle was born in New York and returned hoping to find a job. Ashley was born in Colorado and moved to New York to pursue her acting career. While Ashley was lucky to break into the industry, Daniel wasn't so lucky. When the hiring freeze began, she struggled alongside many other recent graduates. However, when Ashley's business took off and she saw her best friend frustrated by her fruitless job search, Ashley, an entrepreneur and optimist at heart, decided it was time to take action. She knew we had the work ethic, willpower and creativity to start a business together. When Ashley first came up with this idea, it seemed to be true. But the more seriously we thought about it, discussed and planned, the more we understood that it would become a reality. From the day Ashley came up with the idea of ​​starting the company, we have put our all into the brand and have been enjoying success ever since.
ash&dans was not created with the help of investors. The reason we were able to make everything work was because from day one we were extremely careful with our money. Each of us put a small amount of personal savings into a joint bank account and used that money to grow our business. In the beginning, we kept our costs to a minimum – we borrowed a sewing machine from a friend and cut and sewed old t-shirts and sweaters to make prototypes. Once we had the prototype, we bought just the right amount of fabric and trim to make it professional. Because we were very careful with our purchases, we were able to cover our costs by selling our product and keeping very little inventory.
So, with nothing but cloth and scissors, how did you get your first clients?
We were creative and confident. After we put together our Fall '08 collection, a few samples of each style, we carried them around town in a clothing bag and went to the boutiques we thought would fit our product. We introduced ourselves and our brand to people in the store and asked if we could talk to a customer or a manager. If they said yes, we would show them our swatches and line sheets and offer them our collection right here and now. Of course, it took courage and charisma, but it turned out for the best. Thus we ended up in our first store, a pretty boutique on the Upper East Side of New York.
College roommates, now business associates – do you ever get tired of each other? Describe the details of your collaboration.
No, it's a wonderful thing. We spend most of the week together, but we don't get tired of each other. We even still spend our free time on weekends together. We have different personalities, but we balance each other well in business and friendship.
So many creative people, designers and artists have trouble with the business side of things. What advice can you give to people who have a creative product to sell but don't know how to turn it into a business?
Constantly learn and surround yourself with people who know more than you. Never be afraid to ask questions or take risks. It's amazing how much we've developed our business savvy since we started ash&dans. Even Ashley, who studied business at the Olin School of Business at Washington University in St. Louis, says she learned a lot more from her day-to-day experience of running her own business than she might have learned in class. Every day we learn something new. We love both the business side and the creative side, and every day we fill them with both in equal measure.
Have any celebrities been seen wearing your line, and if so, how did you take advantage of this marketing strategy?
Yes, some celebrities have been seen wearing ash&dans. Jessica Szohr and Leighton Meester of Gossip Girl were photographed wearing our products, while Catherine Zeta-Jones and Judi Dench were seen shopping for ash&dans at Henri Bendels in New York.
You have been featured in Cosmo Girl, Teen Vogue, Wall Street Journal and inTouch Magazine. How did you get into the press?
Sometimes we turn to magazines and sometimes they turn to us. First, we found contacts in various fashion publications and emailed them information about our company and images of our collection. Teen Vogue was the first company to respond to our hype. They heard about us and really wanted to talk about a promising brand. We enjoyed interviewing and the interviewer liked our line. People reacted positively to this article, including DailyCandy, who featured us in their NYC weekend segment. Jessica Szohr mentioned to Lucky Magazine that ash&dans was her favorite scarf of 2009. This led to a snowball effect: the more people read the interview, the more people wanted to write about us. The more they wrote about us, the more stores were interested in our line. The more stores picked up our line, the more magazines were interested in writing about it. Etc.
How is your distribution strategy working? Do you guys pack boxes and deliver your scarves around New York, and what are your expansion plans?
We manage and manage all aspects of the business, including distribution. We pack boxes and use delivery services to send our scarves to various stores in the city, as well as throughout the country and abroad.
Your scarf has been spotted in the presence of Snooki from Jersey Shore, what does that say about your clientele and how obsessed you guys are with the popular MTV series?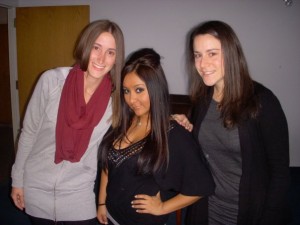 Oh, the Snooki picture. We never expected this to get so much attention, but we appreciate you visiting the "Spotted" album on our Facebook page. We love Jersey Shore and hope Snooki is obsessed with ash&dans too. Our friend (left) sent us this photo after a working meeting with her. Although Snooki is not wearing a scarf, we thought people would love this photo because she is such a character now.
What is the most difficult thing about scaling a business like this and what are you most looking forward to in the future?
Every day we wake up grateful to have our own business at such a young age, and grateful to be able to spend our days together. We look forward to growing our brand, constantly setting new challenges and innovative designs.