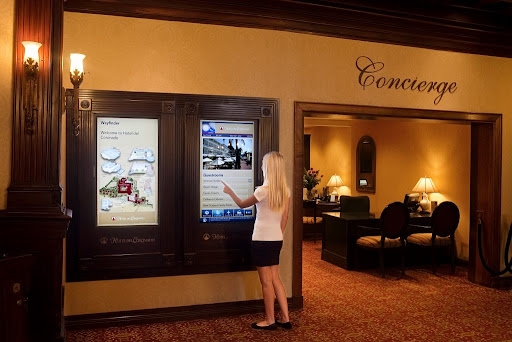 In the hospitality industry, the customer experience is critical. Traditional methods of attracting guests are not paying dividends these days, which is a growing concern. Answer to this? User-generated content displayed on a wall in a social network.
Hotels now need to use user-generated content for lead generation, marketing and guest engagement as more and more visitors share their experiences on social mediawhether they are positive or negative.
There are ways to look at social media walls, and we're here with some of the best!
Ways to Use Social Media Walls to Engage Guests
Make the most of user-generated content
Social media walls have the potential to promote photos and messages shared by hotel guests. Hotel owners can post user-generated content on the brand channel. Display it in the hotel lobby and in rooms and suites through social media walls for customers to notice.
To engage potential guests, social media boards display Instagram photos or Twitter posts about the hotel from previous guests. People can learn about past customer experiences, the best food at the hotel, and other information. New guests will make every effort to post their experiences and reviews on the hotel's social media wall.
Showcase authentic content
Reviews and suggestions from past visitors greatly influence the opinions of those who use a hotel's website to make a booking. Hotels can benefit from user-generated content. In addition, they can showcase positive visitor reviews by using a social media wall on their website. As a result, conversions increase when guests book hotel rooms after viewing real content.
Instagram photos of past guests lounging by the pool or enjoying their meal can also be used in the hotel's live feed. instagram wall. On the hotel website, customers receive updates from the hotel's Facebook page, if enabled. For example, hotels can integrate a social wall on the booking page to attract as many customers as possible.
Use the latest visual trends
The growth of the Internet of the day is heavily dependent on video content, especially short videos like Instagram Reels. While brands all over the world are now using this type of video content, many of which have even gone viral through the use of these platforms, it originally started out as funny and quirky videos uploaded social media influencers.
Short video content on the Instagram wall is great for highlighting your brand's distinctive qualities. This can be anything from the modern amenities and design of your hotel, to the unique features of your rooms, the use of cutting-edge technology, highlighting nearby attractions, or showcasing your stunning location and all that it has to offer.
Boost your sales by adding a Book Now button
This is a fairly simple method to increase conversions and sales. Hotel booking apps and pages may have functionality to display customer reviews. Combine this with social walls for a pleasant guest experience.
You can also add call-to-action components, such as Book Now buttons, to your social media posts to increase conversions and potential purchases.
It will be easier for customers to book and spend more time reading reviews and user reviews if it takes less time and clicks to get to the booking page.
Add some fun with Behind the Scenes videos
Everywhere you look, hotel brands are focusing on innovation. From the introduction of cutting-edge technology to the launch of attractions and renovations, guests love to watch before and after, behind-the-scenes events and "insider" content.
Let them see what goes on behind closed doors. Play time-lapse footage of the maids preparing each room to welcome new guests, staff preparing the venue for an event, and your star chef preparing one of your signature dishes.
Increase revenue with sponsored ads
It is well known that hotels serve as a gathering place for business conferences, product launches, advertising campaigns and other events. In addition to this, the hotels serve as venues for weddings.
Hotels can provide social wall for events various businesses and make the most of their social networking walls. This can be considered as an additional service provided by the hotel. Of course, the social wall will impress the guests. In addition, a brand can view memories, experiences, opinions, and more related to their event. All you need is a screen, projector or digital signage and you're done.
Brands can go further and provide space for local businesses that want to feature their customized sponsored marketing on a hotel's social media wall in exchange for payment. Local businesses may want to attract some guests from a nearby hotel by capturing some of its attention. The hotel makes more money by renting out its social media wall.
Summarizing
Social media walls have become an integral part of marketing. If your company is in any way connected to the hospitality sector, you should definitely start using social media walls in the way we mentioned. This will definitely help you achieve your marketing goals.
!function(f,b,e,v,n,t,s){if(f.fbq)return;n=f.fbq=function(){n.callMethod?
n.callMethod.apply(n,arguments):n.queue.push(arguments)};if(!f._fbq)f._fbq=n;
n.push=n;n.loaded=!0;n.version='2.0′;n.queue=[];t=b.createElement(e);t.async=!0;
t.src=v;s=b.getElementsByTagName(e)[0];s.parentNode.insertBefore(t,s)}(window,
document,'script','https://connect.facebook.net/en_US/fbevents.js');
fbq('init', '1610003529323997');
fbq('track', "PageView");