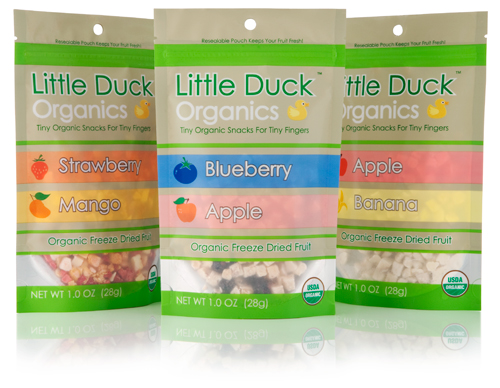 Year of foundation:
2009
Founders and centuries?
Zach Normandin, 26
Tell us about your company:
When my wife and I went shopping for food and snacks for our two young daughters, we always talked about the lack of choice in the newborn department. We've always enjoyed buying organic or local produce for ourselves, but we really didn't find anything like it in the kids section. In addition, many of the foods that were available contained added sugars and preservatives that we didn't want to feed our girls. Shortly thereafter, I decided to start researching what it would take to bring a food product to market.
In February 2009, I turned my full attention to Little Duck Organics and began negotiations with a manufacturing plant and a packaging supplier. The rest of 2009 was spent finishing the packaging design, launching the website, and completing production of our first product. During the first week of December (09′) we launched our first Tiny Fruits product line in 12 stores here in New England and also on Amazon.com. The product comes in three different flavors and contains only 100% natural organic fruits. In addition, none of our products contain added sugar, preservatives, colors or artificial flavors.
What makes your company unique in its industry?
We currently position ourselves as the organic/raw/all natural leader in the baby food market. From the very beginning, we have set ourselves the goal of producing products using only natural organic ingredients, and we plan to launch two more products later this year to complement our current range. This is a niche in the baby food industry that has yet to be filled and we are very positive about the growth opportunities in the industry.
Future plans?
Our short-term goal is to expand our retail footprint and increase brand awareness. Over the next few months, we will be reaching out to as many grocery stores as possible to try and get our products on their shelves. In addition, we will expand our online presence through websites such as Diapers.com and Spud.com. Our future goal for the company is to launch our products nationwide and include several other product lines in our offering. Future plans for product development include a line of organic oatmeal and fruits, products for 2-4 year olds, and organic teething biscuits.
What was the starting budget?
$20,000