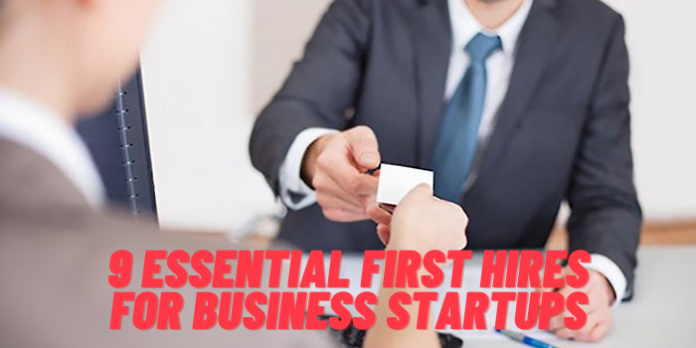 Once a business has created a product or service and has started making some money, any expansion or growth efforts require a strong team behind the business. However, figuring out which positions to hire for can be difficult, especially for founders new to business startups. Because money might be tight when making these first hires, businesses must be careful to hire the right people who will make the business grow and be successful. These are the people who will have the most impact on the business as it gets off the ground. Although businesses should hire the right people depending on their needs, here are some essential hires you should consider for your startup.
Chief Executive Officer (CEO) and Chief Operations Officer (COO)
The first hires for any business should be the CEO and the COO. Usually, the CEO is one of the founders or the person with a majority stake in the business. The CEO is responsible for developing and controlling the direction the business will follow, as well as its culture and vision. They might also have some input on hires the business needs.
The COO focuses on the daily operations that keep the business going. A COO can be hired from outside the business, but it is always best to give the position to one of the founders, as they already understand the business as much as the CEO and other founders do.
Product Manager
The product manager is responsible for product vision, strategy, and development. They are the person responsible for everything about the business, and they work with both the marketing and engineering teams to ensure the right products get to market and are marketed to the right people.
As with COO and CEO positions, the initial product manager is usually a founder because they already understand the products a business would like to sell. However, an outside hire can be trained to handle product management with the founders left to concentrate on the business' bigger picture.
Chief Technology Officer (CTO)
For businesses that focus on tech products and services, a chief technology officer is a crucial first hire. A CTO is in charge of both back-end and front-end engineers and developers and is usually someone with a solid technology background.
A chief technology officer should be able to oversee, manage, and troubleshoot any installed systems. They should also be able to consider the software and hardware needs of the business. A CTO can help build a business's online presence by working together with the marketing manager to find a solution that would work well for the business.
Market Research Analyst
Market analysts are tasked with helping businesses sell their goods and services more effectively. They analyse consumer data and market trends to predict how current and potential clients are likely to behave in the future. They help businesses know what products and services people want, at what price they would purchase and when they would buy these products and services.
Market research analysts can also help businesses refine their marketing strategies by analysing data and finding insights that can help businesses in doing this. By analysing past data and briefing their bosses on the performance of past marketing endeavours, they also help the businesses they work for make the necessary changes to ensure success in the future.
Market research analysts must have strong analytical and maths skills. Although a bachelor's degree is often sufficient for many businesses, having an advanced degree can help aspiring market research analysts get into the positions available at larger business startups. Enrolling in an online DBA programme at Aston University equips you with the skills required to thrive in a market research analyst role.
Chief Marketing Officer (CMO)
A chief marketing manager focuses on how your products and services are viewed by your customers. The best chief marketing officer should have promotion and marketing skills that can help them spread the business' vision to the right people.
For many startups, a chief marketing officer is responsible for a lot including running ad campaigns, designing promotional material, writing copy, handling social media marketing and any other marketing tasks the business needs help with.
Chief marketing officers can also collect feedback from customers and work with the product manager to ensure customer feedback is taken into account during the development of the next iteration of products.
Sales Manager
The sales manager is a key hire because they are responsible for generating sales for businesses. Businesses that cannot generate revenue quickly do not last long, and this is why a competent, creative, and talented sales manager is key.
Sales managers generate leads, cultivate customers, and generate revenue for businesses.
Because of how important they can be to businesses, hiring sales managers can be difficult. However, businesses should consider hiring the best candidate and then use the revenue they generate to hire additional members of the team. Hiring the best candidate also ensures that they won't need a lot of training before they start generating revenue.
Chief Financial Officer (CFO)
For businesses that do not have the capital to hire an accountant, it is best to outsource their accounting and financial tasks However, an in-house CFO can be extremely useful for your business.
A CFO should have an eye for detail because they are responsible for all of a business's finances. In the early stages, they will be responsible for tasks such as arranging financing, hiring premises, and payroll.
Customer Service Representative
Although customer feedback and support are important for all businesses, they are essential for startups. It not only helps businesses get feedback from their customers so they can find areas of improvement, but they also help businesses build positive relationships with their customers. These relationships are essential for business growth.
Businesses that do not communicate with their customers are more likely to fail. This is why startups should hire someone who can handle any questions and concerns customers have. This role should be filled as soon as a business starts making sales.
Knowing who to hire for a business startup can be challenging because there are so many people you could hire. However, because most startups have limited funds, you can hire the people you need at the start and hire additional team members once the business starts growing.