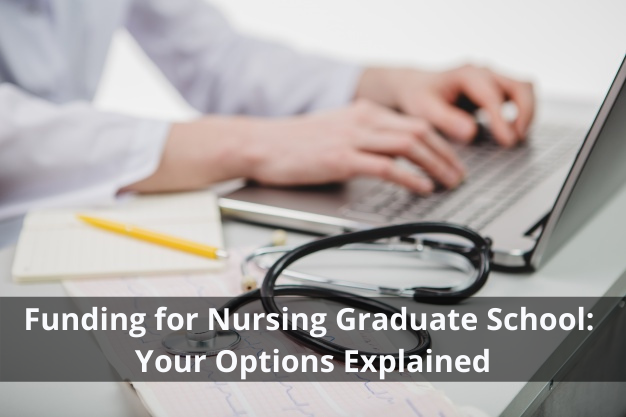 If you are a nurse who is considering going to graduate school to get a master's degree or doctorate in nursing, you are probably like the majority of US graduate students, considering borrowing at least some money to cover tuition costs and other expenses while you study. But sadly for many students, being in student loan debt from both an undergraduate and a master's or doctorate degree can be very overwhelming and stressful, which is the last thing that you need when you're a professional in a high-pressure role such as nursing. The average debt for graduate students today is at almost $60,000, with one in four graduates in more than $100,000 debt, according to research from the New American Foundation.
So, is borrowing that much money to get a nursing graduate degree worth it? While going to graduate school as a nurse can provide you with qualifications that will allow you to earn much more compared to what you are earning now, there are still several drawbacks that students cite including struggling to pay off a graduate school loan debt alongside the debt from getting an undergraduate degree, or being unable to earn a full paycheck until much later in life due to the amount of money taken out to pay student loans. Many students will try to manage financially by going to graduate school while working full-time, which can be stressful in itself. Others prefer the idea of saving up to cover at least some of their fees to avoid getting into more student debt than is necessary but feel that by doing this, they are also putting their career on hold.
A student loan for graduate school might be an effective way to help you get to where you want to be in terms of your nursing education and career, but it's important to consider that they can have a significant impact on your life goals, health, stress levels and more. Some students report that being in student debt has a bigger impact on them than simply having to make repayments, with some finding it difficult to buy their own homes with a mortgage due to making repayments, others struggling to contribute as much as they would like to their retirement savings, and others still feeling limited to only working in certain careers where they are more likely to get support with paying.
Benefits of Getting a Student Loan for Graduate School:
While there are plenty of concerns to consider if you want to borrow money to pay for graduate school, there are some benefits to think about. When done right, graduate school, especially for nurses, can lead to advanced qualifications such as these online MSN to DNP programs from Marymount University, which will significantly boost your career and your salary. Nursing is perhaps one of the wisest career choices for going to graduate school since it is one industry where you are almost guaranteed an advanced role once you have gained an advanced degree. Nurse practitioners and nurse educators, for example, are both types of advanced nurses that are in increasingly high demand across the US right now with the chance to earn significantly more compared to your salary as a registered nurse.
Borrowing money for graduate school is one of the most common methods that nurses use when it comes to taking their career to the next level. Often, it might be the only option that you have when it comes to getting the qualifications that you need for meeting your career goals. Thankfully, in this industry, it should not be difficult to do and you will get a return on your investment.
How Online Degree Programs Can Help You Save:
Studying for an online degree program can be very beneficial for nurses who want to get an advanced qualification. Not only can these programs be more flexible and less stressful compared to learning in a traditional classroom environment, but they can also help you save money. It's unlikely that you are going to find a master's or doctorate degree in nursing online with significantly lower tuition fees, but the flexible nature of these programs will allow you to continue working as a nurse full-time or almost full-time while you study, allowing you to earn more money to put towards tuition fees and reduce the amount that you need to borrow. Along with this, nurses who study for an advanced degree online can also save an often significant amount of money on all the other expenses that are associated with graduate school and that will usually add up, such as commuting costs.
How to Approach Borrowing and Reduce Stress:
There is no denying that as a nurse, attending graduate school to get an advanced degree qualification can be one of the best ways to significantly improve your career outlook, get access to better career opportunities, and boost your salary. Shifting your mindset when it comes to getting a graduate school loan may be essential. Many students find that viewing it as an investment in something such as buying a house can help them realize the potential for a return on their investment and why it might be worth it. Like purchasing a property, it is a big investment that most people wouldn't be able to afford outright – but most of the time, it is an investment worth making.
Keep this at the forefront of your mind when you are choosing the right nursing school and advanced degree program for you. Just like buying a property, there are many different factors to keep in mind and it is important that you are sure you have found a program that is going to be a good match in terms of what you hope to get out of it. Make sure that when choosing a program, you feel that it is going to be worth borrowing and investing so much money.
Alternatives to Student Loans to Consider:
Student loans are not the only option for nurses who want to go to graduate school. There are some worthwhile alternatives to consider that you may be able to use to get some or all of the funding you need to get your graduate degree and work in an advanced nursing role. However, it is important to remember that not all of the alternatives are going to be as widely available or as accessible as student loans, and they may not always be an option for every single student. But it's still worth looking into them to see if you are eligible.
Employer Funding:
Advanced nurses are in higher demand than ever before, which has led to an increase in employers who are willing to cover the cost of graduate school for the registered nurses that they employ. Many employers offer tuition reimbursement programs or pay outright for graduate school fees, supplies, and more for their employees, so this is definitely something worth asking your employer about before you apply for funding. According to the Society for Human Resource Management, over 50% of employers now offer some form of tuition assistance.
When asking your employer about funding options, it's important to ask several questions so that you know where you stand and what will be required of you as an employee. Most employers will require that employees stay with the company for a certain length of time after graduation, so it's important to find out the rules around this and ensure that you are willing to continue working for your employer for the required length of time after graduation. You should also find out how you will be reimbursed; some employers will pay you directly while others make payments to the college. It is also worth asking if you will be required to pay the company back for any tuition spent if you leave that employer before completing your degree or before the required amount of time needed to work there after you graduate.
Employers offering funding for graduate school is not just something that benefits the employee, but it can also be highly beneficial for the employer themselves. Some of the top benefits for employers include tax deductions of over $5k for tuition reimbursement programs, meaning that the company can make a relatively small investment in their employees to get a more highly educated workforce. Some states offer tax breaks for employers who offer tuition support, and in some cases, your employer may be able to write of all or some of the cost of your tuition as a training expense.
Along with the tax benefits, more employers are willing to pay for tuition, especially in the healthcare industry, since getting a graduate degree can help you become a more valuable employee and bring more to the table, especially if it will prepare you to work in an advanced role that your employer is hiring for. In addition, getting a graduate degree often requires you to make a longer commitment to the company by agreeing to work for them for a certain number of years after you graduate, which reduces staff turnover and lowers costs.
Scholarships and Grants:
Scholarships and grants are programs that provide money to students, which does not have to be repaid. The funds will go towards some or all of the tuition cost of graduate school. While undergraduates tend to have more opportunities when it comes to grants and scholarships, you can find some that are available from companies, schools, states, and organizations. Scholarships and grants are something that you will need to apply for, and they can be either merit-based or need-based.
While the scholarships and grants that are available for graduate students tend to be more limited and more modest compared to undergraduate programs, the additional funding can add up. Along with this, you may be able to find more scholarships for nurses since advanced nurses are in especially high demand right now and there has been significant investment in various ways to help people get into these roles. You can find graduate scholarships by:
School: Colleges will often offer scholarships to graduate students in order to attract the students who have the best academic performance. If you have a high GPA and are an ideal applicant, this could be a good option for you to consider.
Field: Since nurses are in increasingly high demand, you will often find more options for scholarships and grants to help registered nurses get into an advanced role. Focus on finding scholarships and grants that are awarded by professional nursing organizations, foundations, and healthcare employers.
Demographic: Graduate scholarships may be available for specific populations and demographics. For example, you may find nursing scholarships that are in place to help more men get into nursing, or scholarships for African American women. Scholarships and grants may also be available based on your background, with programs for people who grew up in care or have disabilities, for example.
Region: Finally, it's worth looking for scholarships that are provided to graduate students from your state or region. While national scholarships tend to get more attention, searching locally can also be a great way to get the funds you need.
When applying for a graduate scholarship, there are several things to keep in mind. These are:
Be organized: It's a good idea to start early and keep track of any essay questions that you have already answered to use them in all the applications you make.
Widen your search: Don't box yourself in to just one search criteria; chances are that you will be eligible for several different scholarship and grant programs.
Set a Budget: Consider any aspects of the application that you will need to pay for, such as transcripts, and set a budget for this.
Finding the funding to get a graduate degree in nursing is not always easy. Student loans are a convenient choice, but they can lead to decades of financial stress if you do not choose wisely. By taking the right steps when considering where to study and which loan to get, plus exhausting all your options when it comes to alternative funding, you can reduce the stress of borrowing money and get more from your investment.