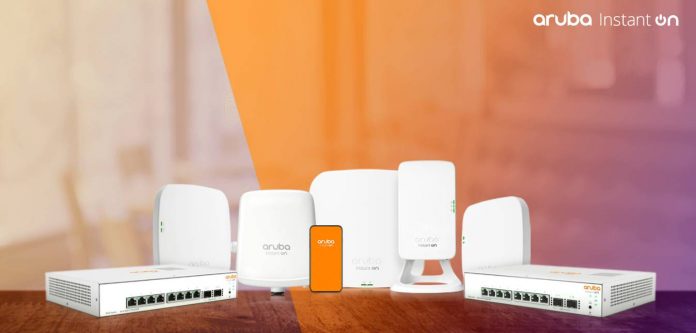 Entrepreneurs building their budding empires often put on a lot of hats to keep the lights on and make money. While it's part of the hustle, one of the "toughest hats" can be powered by your own tech support. From setting up an entire office lab to troubleshooting video conferencing before an important venture capital meeting, fast, reliable Wi-Fi access makes the difference in competitive advantage and business win or loss.
In particular, startups often face connectivity issues due to a lack of dedicated IT support. Whether you're starting out or expanding, your Internet connection is critical. This process can take several days to set up the wrong network technology. It will cost you employee productivity and jeopardize business relationships with end customers and partners—right at the seed funding stage.
Fortunately, there are a number of networking solutions available that help CEOs stay ahead of disruptions without breaking the bank. Here at HPE Aruba, we've built wireless and wired networking tools specifically built for fast-growing small businesses and startups with Aruba Instant On. Our small business-focused portfolio of Wi-Fi hotspots and switches offers reliable, fast Wi-Fi that's easy to set up and manage—all with no hidden fees.
Run your business, not your Wi-Fi network
Let's take the video call scenario described earlier. With Instant On indoor and outdoor wireless hotspots, business leaders can be sure their Wi-Fi is set to automatically prioritize important voice and video calls, ensuring that important business calls don't get interrupted at the most inopportune moment.
Plus, the free Aruba Instant On mobile app lets you manage your network from the palm of your hand. With an intuitive control panel and support for up to 50 devices, the app lets you monitor Wi-Fi performance. Monitor from anywhere at any time – no recurring subscriptions required.
A network that scales with your business
As your business expands its geographic footprint, including the prospect of adding more team members, additional Wi-Fi devices may be required to provide adequate coverage for your competitive edge. Instant On switches offer up to 48 ports. This ensures that a growing number of high-bandwidth devices connect to a reliable wired network. One that offers a stable connection. These devices include desktop computers, surveillance cameras, and printers.
Say goodbye to those "dead zones" around your office that can undermine your best-laid business expansion plans. Instant On APs support Mesh Wi-Fi, allowing businesses to easily connect and create a network of APs without the need for additional cabling and associated complexity. When the first access point is connected, the second access point can be connected to AC power. With a single click on the Instant On app, you are automatically connected to your primary hotspot via Wi-Fi. It's an easy way to connect Wi-Fi indoors, outdoors, and anywhere your growing business needs a wireless network and Internet access.
WiFi security lock
Attackers are increasingly targeting small businesses and startups. Therefore, it is more important than ever to ensure the security of your Wi-Fi network. Again, people with varying levels of technical expertise can still build solid security for small business Wi-Fi programs. Instant On offers important built-in security features such as:
Two-factor authentication: Adding an extra layer of verification beyond the username and password paradigm is fundamental to improving IT security. Two-factor authentication can be easily implemented with a few clicks in the account settings of the Instant On app. Thus, if an attacker manages to guess or forge the Wi-Fi password, additional authentication can prevent hacking.
Role-based access to Wi-Fi: Instant On also gives users the ability to create separate networks for employees and guests. It enhances access control by preventing Wi-Fi use outside business hours and controlling network traffic usage. This may include the ability to limit guest network bandwidth to prioritize bandwidth-hungry employee voice and video applications.
Current software: The threat environment is dynamic and rapidly changing as smart would-be hackers respond to increased security. Therefore, it is important for entrepreneurs to ensure that their respective software is up to date. Whether it's for Wi-Fi or other important software applications. Take advantage of automatic update settings to keep up with software releases.
With Instant On Aruba, executives can create a blazing fast, worry-free network without hiring expensive IT consultants. This way you can grow your business without increasing your IT budget and maintain your competitive edge.