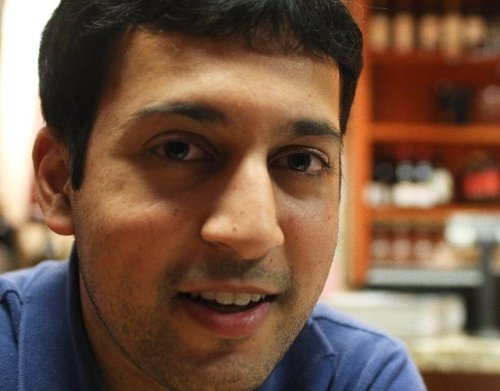 We had the opportunity to meet Gagan Biyani, 22, who is one of the founders of Startup Roots. Startup Roots is a non-profit scholarship program that aims to bring startups and internship seekers together so they can have an amazing summer together! Joining Gagan in the project are Ajay Kamat, Himani Amoli, Andrew Chen and Louis Hong, all of whom have great passion and experience in the startup world.
Together, they offer great opportunities for both parties and plan to expand in the coming years.
What was everyone's background before Startup Roots?
Since Startup Roots is a non-profit organization, we all have other startups that we spend most of the day on. I will continue to explain this in question #3.
I, Gagan Biyani, graduated from the University of California at Berkeley in 2008 with a degree in Economics. I worked at Accenture as a strategy consultant for a year and a half before leaving my job to take over my startup full-time. While at Accenture, I started writing part-time for TechCrunch's mobile site, MobileCrunch, which I still contribute to today. I currently co-found Udemy with Startup Roots, a startup focused on democratizing online education.
Ajay Kamat is the founder of micromobs, a very easy way to communicate with your groups. He graduated from the University of California, Davis with a degree in Biological Systems Engineering and a degree in Technology Management. After a brief stint in the biotech industry, he became interested in the web. He worked at Brocade as a project manager and also one of the founders of micromobs. Currently, Ajay is spending time ridding the world of email floods with micromobs and making startups more accessible to students with Startup Roots.
Himani Amoli graduated from UC Davis in 2007. She worked in marketing for Integration Associates, a Sequoia-funded company, and as a product manager for i2we, Inc, an IDG-backed startup, before she decided to go into her own startup. Along with connecting students to startups through Startup Roots, she co-founded the micromobs that will end the nasty email thread. In her free time, she also volunteers as a mentor for BUILD.org.
Andrew Chen, co-founder of Startup Roots, is also currently the founder of SnapItTo.Me, a photo marketplace that aims to change the way photography is bought and sold around the world. Before becoming a full-time entrepreneur, he spent 5 years at Accenture as a manager in their strategy advisory group. During this time, he also co-founded the newSpark Group, a non-profit startup providing consulting services to international development organizations and social enterprises. Andrew graduated from Yale University in 2003 with a degree in Economics.
Lou Hong currently manages several projects, including a startup resource website, a social entrepreneurship project promoting fair trade products (cupsmitten.com), and his full-time job as head of strategy and operations for gameattain.com, a search engine for gamers. . A graduate of the University of Washington with a degree in business administration and political science, he comes to Startup Roots with over four years of management consulting experience at Deloitte Consulting and two years of marketing operations and strategy at the JP Morgan Chase (Washington Mutual) Card. Services.
Could you explain who Startup Roots is for and why?
Startup Roots is a simple concept: startups are applied. Interns apply. Startup Roots brings together the best of every group for a great summer!
Startup Roots also offers a Startup Summer Crash Course where speakers such as Steve Blank, Jeff Clavier, and Vivek Wadhwa will talk about entrepreneurship, startup history and funding, among other topics. Startups that must apply are at any stage from early stage (seed funding) to late stage and must be able to provide a Summer Scholar position with office space, mentoring and a Scholarship summer project. Startup Roots does not require compensation.
Fellows who are in college or graduate school and who are individuals of high potential must apply.
What's wrong with other internship sites? Why startups are a good focus?
We are more like a scholarship program than an internship. We hand-pick fellows and startups so they know that the quality of both is high and therefore startups don't have to spend a lot of time looking for interns. In addition, for fellows, we offer a summer introduction to startups. They will hear from speakers such as Adeo Ressi (8x Entrepreneur), Steve Blank (7x Entrepreneur), Jeff Clavier (Angel Investor, Rock Star) and many more.
Startups are a good focus because startups really need help during the summer as startups can always need extra help. More importantly, for Fellows, startups are interesting and willing to provide them with a complete internship experience. Fellows will start working on real projects and go home with a great understanding of the startup world and ways to get involved. Finally, during the summer they will be given social events and a series of performances, so it's more like a full-time internship than an internship placement site.
Where did the idea come from? What made you guys go for it?
Nowadays, we are all entrepreneurs and actively participate in the Silicon Valley startup community. Several of my co-founders thought about how to find extra help for the summer and quickly realized that there was no good way to find a summer intern. In addition, they realized that students rarely have the opportunity to work in a startup during the summer. They came to me and one of our co-founders and we immediately thought it was a great idea. There is a need in the market and we are trying to fill it with a quality summer program for college students interested in startups.
Does Startup Roots have a revenue model?
Startup Roots is a non-profit organization and does not intend to make money. We are asking for a $1,000 donation from participating startups to run the program. All money goes to the running of the program, and all the time the co-founders are on a voluntary basis.
What are your plans for the future?
Right now we are very focused on recruiting the best students for fantastic startups. We have received over 90 student applications and hosted many startups. In the future, we may expand Startup Roots in several locations around the country, but this is not planned until next summer.