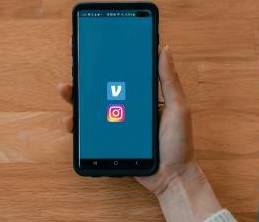 Instagram is a social network where users can post photos and videos. Recently, Venmo, a mobile payment company, announced that it will be giving away $100,000 in free money through a contest held on Twitter and Instagram.
But the question is, why would they? Well, by giving away $100,000 through social media, Venmo hopes to attract new users and keep them interested in its app. And what does Venmo get out of it? In addition to attracting new users, they hope the giveaway will encourage people to use their app more often and make more transactions.
What is Venmo?
Venmo is a payment platform that has revolutionized the way you pay for small expenses. Created in 2009 and bought by PayPal in 2012, Venmo has quickly become one of the most popular payment apps in the world.
It is a mobile payment application that allows users to easily send and receive money with friends and family. What's even better is that it's a great way to easily pay bills, split the cost of dinner, or cover any other small expenses. If you are not familiar with it, now is the time to start using it!
Why is Venmo giving away $100,000?
Venmo is giving away $100,000 this year and the trick is you have to post their Instagram story or retweet their tweet to enter the contest.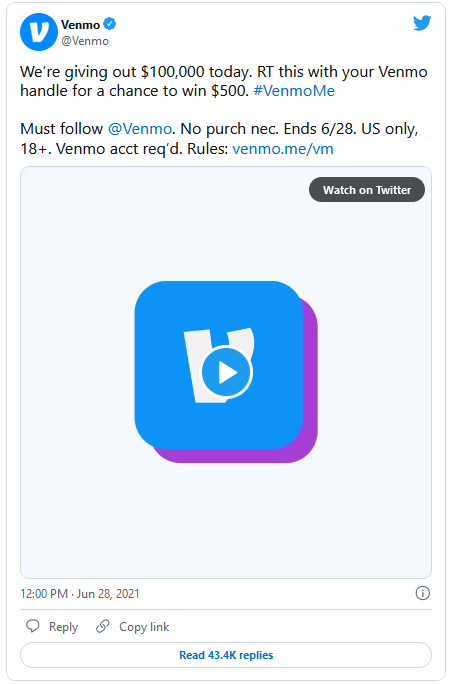 There will be 100 winners in total – 50 on Twitter and 50 on Instagram. To participate via Instagram, all you have to do is add your Venmo ID to their latest posts and then share them on your profile.
For Twitter followers: follow Venmo and retweet them giveaway announcement tweet with Venmo handle.
The money is distributed in the form of cash prizes after the contest ends on June 28, so it's worth registering now if you want to try to win. Venmo has many features that make it the perfect payment method – perfect for small businesses and everyday transactions.
Note. This giveaway is for US residents over 18 ONLY.
What will Venmo gain from this?
Venmo has been known to give its users thousands of dollars in cash prizes for several years now. This distribution is not new, and may not be the last. So, seeing how they spend money on giveaways, one might wonder what Venmo is trying to achieve here?
Well, the answer is quite simple – they want to achieve two main goals with these free campaigns:
Attract new users
Get existing users to start using Venmo
The first purpose is solely for marketing and promotional purposes. When people retweet their tweets and post on Instagram, their followers see the Venmo name in their feed. This is how Venmo positions itself in people's minds, increasing its brand awareness.
Second, existing users are reminded of their registered Venmo account as they must post their Venmo handles as part of the competition. This way, Venmo can instantly pop into their minds the next time they need to send/receive payments on a small scale. This will ensure the activity of existing Venmo users and a certain level of usage. This is one of the main ways to give away Venmo money on Instagram.
Fraud Protection
The Venmo contest is legal and people have won hundreds of dollars in the past.
However, many scammers scam people in the name of giving away Venmo gifts. They usually contact people on social media, mostly Instagram, and let them know that they have won money in the Venmo giveaway. However, they will ask for an agency fee or some personal information in order to process your monetary fee. Don't fall victim to their tactics.
They will disappear after receiving an "agent's fee" or selling your personal information online in the deep web. In addition, they may use your information to hack into your bank or Venom account and take your money.
Of course, always check if the account contacting you is Venmo itself or not, and never pay or share your personal information.
In addition, you can participate in Venmo giveaways and try your luck!
Parting thoughts:
Venmo is a payment app that is quickly becoming popular among millennials. This is a great way to easily pay for small purchases and potentially save money on large transactions. This $100,000 prize pool competition is their second giveaway of the year, ending on June 28th.
!function(f,b,e,v,n,t,s){if(f.fbq)return;n=f.fbq=function(){n.callMethod?
n.callMethod.apply(n,arguments):n.queue.push(arguments)};if(!f._fbq)f._fbq=n;
n.push=n;n.loaded=!0;n.version='2.0′;n.queue=[];t=b.createElement(e);t.async=!0;
t.src=v;s=b.getElementsByTagName(e)[0];s.parentNode.insertBefore(t,s)}(window,
document,'script','https://connect.facebook.net/en_US/fbevents.js');
fbq('init', '1610003529323997');
fbq('track', "PageView");