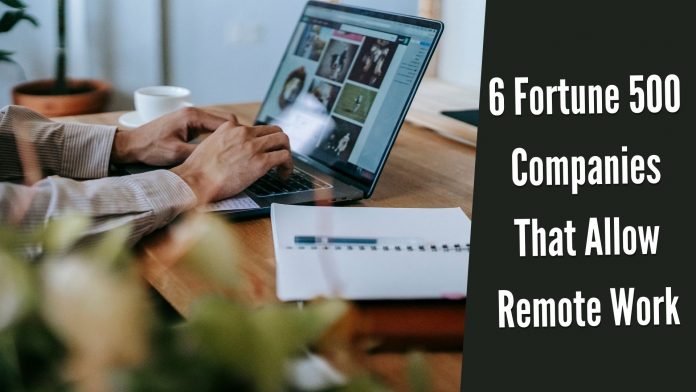 Working from home has long been considered the holy grail of job satisfaction. But keep in mind, before you start working from home, you first need to find companies willing to allow remote work. In addition, many companies only consider applicants who live close to their office, meaning that a geographic relocation may be required. However, here are six Fortune 500 companies that allow remote work.
Remote Work From Home With These 6 Fortune 500 Companies
Over time, more Fortune 500 companies have switched to remote work. This is great news for workers who want to save time and money. Some of the benefits of working remotely include increased productivity and reduced stress.
In addition, employees can work from anywhere in the world, which can be an important advantage in today's competitive job market. If you are interested in remote work, be sure to check out the job listings of the companies that are currently in the lead. Some of them include:
1. Amazon
Amazon, one of the most valuable companies, allows remote work in some of its departments that do not require physical labor, such as marketing, supply chain planning, etc.
Employees can perform their tasks from anywhere in the world and can work remotely if necessary. This encourages innovation and creativity as employees are not limited by working hours or location.
Some recent areas of remote hiring:
Support service
Business Intelligence
Technical Recruiter
Account Manager
2. Wells Fargo
Wells Fargo, one of the world's largest banks, is offering remote work as part of its global HR strategy.
This allows employees to work from home in different parts of the world, which saves on travel expenses and gives them better access to their customers.
Some recent areas of remote hiring:
Analytics consultants
Quality Assurance Analysts
Leaders in Trade Services
Account Managers/Assessors
3. Dell Technologies
If you're looking for a company that offers flexible work policies, remote work opportunities, and access to top-notch technology, Dell is definitely worth a look. They have a flexible work policy that allows employees to work from anywhere in the world.
In addition, they also offer great telecommuting and remote work opportunities. Indeed, it allows employees to stay in touch with their team and clients, and allows them to perform their duties where they feel most comfortable.
Overall, Dell Technologies is a great company to work for if you're looking for an environment that encourages productivity and growth without being tied down to an office.
Some recent areas of remote hiring:
Frontend Developers
Strategy and business operations
Senior Analyst at Impact Communications
Account Managers
4. Health CVS
This Fortune 500 company has an amazing remote work policy that is both progressive and employee-friendly. Employees can work remotely during certain hours each day and are allowed to work remotely as long as they meet company productivity standards.
What's more, CVS Health provides flexible working hours so that employees can do their jobs from the comfort of their homes and without sacrificing their personal lives.
If you want to work in an environment where your contributions are valued and your work is challenging but rewarding, then look no further than CVS Health!
Some recent areas of remote hiring:
Clinical Services Analysts
Specialized Services Analysts
Human Resources Manager Business Partner
Strategic consultant
5. Oracle
This global software company provides employees with competitive wages and flexible working conditions, allowing them to work from anywhere in the world. Plus, they offer great perks like health care and retirement plans.
As one of the most successful software companies on the planet, Oracle uses over 132,000 people all over the world. So if you are looking for a job that offers competitive wages and global mobility then Oracle is definitely worth considering!
Some recent areas of remote hiring:
Full stack software developer
Marketing communications specialists
Product Marketing Manager
Business Intelligence – Pricing
6. Anthem
Anthem is one of the Fortune 500 companies that allows remote work. The company is committed to making healthcare more accessible to everyone through its health insurance plans.
Not only do they support remote work, but they also encourage creativity and innovation through their remote work policy.
In addition, they provide comprehensive benefits such as health insurance and 401,000 compensation contributions for employees who choose to work remotely. This has helped Anthem keep its workforce compact and efficient, while also giving its employees the flexibility to maintain a work-life balance.
Some recent areas of remote hiring:
Account Manager
Process Improvement Coordinator
Product manager
Business analyst
How to apply for remote work with listed companies?
To apply for remote jobs at listed companies, first, make sure you have a well-designed LinkedIn profile.
Then, create a resume that showcases your skills and experience in an easily digestible way.
Finally, start your job search using the company's website as a starting point. This will give you an idea of ​​the types of people they are looking for and the qualifications required.
Also, try searching for remote job listings on platforms like Monster, Indeed, or FlexJobs and search for the company you would like to work for to see if they have any active remote work opportunities.
Don't give up if you don't get any response; hundreds or even thousands of candidates apply for the vacancy. Just keep doing your best and start learning new skills in your field to spruce up your resume even more.
parting thoughts
Work will never be the same again! With the advent of remote work, companies of all sizes are enjoying its many benefits.
Not only do they offer great job opportunities, but they also boast amazing employee productivity and flexibility. This allows employees to perfectly combine work with personal life.
In addition, remote work greatly improves team morale and cohesion. So, if you are looking to change your career or just want to improve your work-life balance, remote work is the way to go!